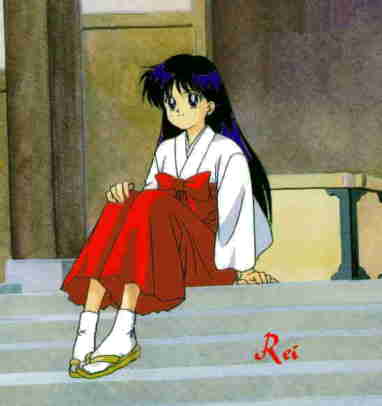 Rei is the daughter of a Japanese eshu named Akiko and a mortal father. When she was quite young, her parents died under mysterious circumstances, something which haunts her to this day. Raised as a miko, or Shinto priestess, by her Kinain grandfather, she learned of her mystical heritage at an early age. When she underwent her Chrysalis at the age of nine and emerged as an eshu, it was to no one's surprise.
Rei's grandfather died shortly after she finished junior high school, but she maintains the fiction that he is still alive in order to maintain custody of their temple, which is actually the motley's freehold. It helps that she's been sort of "adopted" by Lady Miria Okami, a Prodigal shapechanger who is apparently a distant cousin of hers, and that she is able to maintain the temple with the generous checks that arrive each month from an unknown benefactor (Unknown even to Rei, this benefactor is in fact the Unseelie eshu Ysolde Nyx, who helps support the younger changeling due to her friendship with Rei's deceased mother.).
Rei recently began a relationship with a fellow student at Larry Dixon High School, the young magus Derrick Ryan, and the two are currently exploring the depths of their feelings for one another.
Rei is a mistress of Soothsay, and is training to become a healer under Lady Althea ni Liam, the baronial physician.